Cargo & Freight Transport Company
We provide FTL, LTL, flatbed, step deck, dry van, power only and expedited hot shot loads throughout the eastern seaboard and beyond.
The Trucking Reliability You Need
The essence of Magnet Transport Group is simple: trucking shouldn't be complicated. Magnet is about movement. It's getting your stuff from point A to point B. Whatever you need. Whenever you need it. We'll get it done.
But of course, there's more to Magnet Transport Group. We aren't just about trucks – we're about people and the authentic relationships we build with our customers. We are not on auto-pilot. Providing top-notch communication and earning your trust in us is our specialty.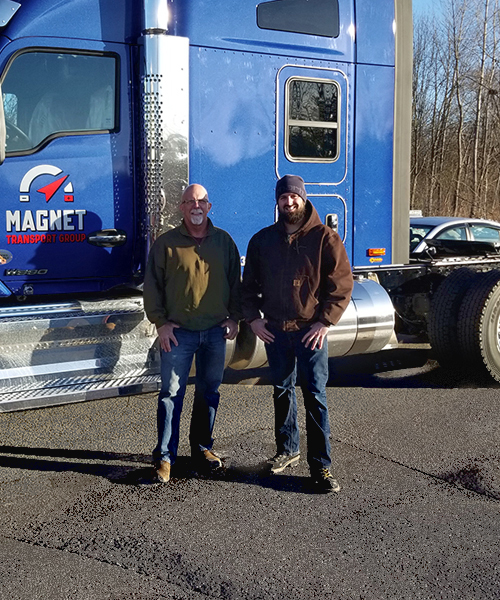 Magnet is continuing to grow its list of services and expand its offerings. To start a conversation about how Magnet can fulfill your transport needs, please give us a call.
Our commitment to you:
Magnet will pick up and deliver every single load exactly as promised, the first time, on time, every time. PERIOD.

Making a Difference
We want to make a difference by providing extraordinary service and creating a relationship with our customers that sets us apart from the rest.

Appreciating It's People
People are our "why" - why we do what we do. Without our people - both our staff and our customers - there is no Magnet.

Growth
The essence of Magnet is movement - and we are constantly changing, moving forward, and growing. The more we learn, the more we grow

Nurturing Connections
Connections are what maintain relationships. Without a meaningful connection to the people who make Magnet tick, we are just another company.

Extraordinary Services
Our promise to you: every load is picked up and delivered exactly as promised, on time, every time, anytime.

Trust
Trust is defined as "reliance on integrity, strength, ability, surety." Trust grows relationships and is based in mutual appreciation.
One Call Away from the Boss
When you reach out to Magnet, your call goes directly to Mark or Drew – they are the heart of the business, and they're also on the front lines. There's no middle man, no answering machine, no handful of digits to press to reach the right department. You want to talk to us – and we want to talk to you too.
To start a conversation about how Magnet can fulfill your transport needs, please contact us.